The National Wheat Foundation was invited by WGST Productions to participate in a series called FoodQuest which explores global cuisines. The series is co-hosted by Robin Leach, Alonzo Mourning, and Kim Alexis. The Farm America episode which showcases wheat and explores the impact of agriculture on modern cuisine, premiered Sunday, October 22nd and again on Tuesday, October 24 at 10:00amEST on the Cooking Channel. It will also have a showing on Friday, October 27 at 9:30amEST on the Food Network.
Partnering with  Ardent Mills, John Deere, and the Wheat Foods Council, The Foundation pursued this opportunity to bring greater awareness to wheat and the farmers that grow it.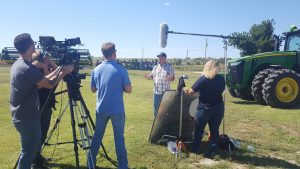 Representing wheat, Kansas wheat farmer David Schemm was interviewed for the episode. Kansas is the largest wheat producing state making it an ideal location to hold the shoot. The Foundation also wanted to bring attention to younger farmers which is why you will see David's family, especially his son Clay, in the shot. Chandler Goule, Executive Director of the National Wheat Foundation, went to David's farm to help with the interview. After eight hours in the sun, they got some great footage of David explaining the important role that wheat plays in the global food supply. Viewers will also have a better idea of the role farmers play in feeding the world. John Deere has been a large supporter of the wheat industry which is why you will notice all of the John Deere machinery in the background.
Th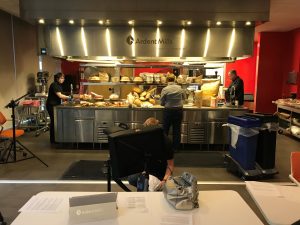 e National Wheat Foundation also partnered with Ardent Mills who provided a kitchen and chef that was featured in the segment. Based in Denver Colorado, Ardent Mills is a start-up company born from ConAgra Mills® and Horizon Milling® and offers the industry's broadest range of flours, mixes, blends and specialty products. The Foundation spent the day shooting b-roll in Ardent's culinary kitchen. Additionally, Ardent Mill's Chef Jason Gronlund went through the different varieties of wheat and carried out a recipe for each type. The recipe highlighted in the segment is pasta nachos.
The Wheat Foods Council (WFC) have also partnered with the Foundation to make this collaboration a success. WFC provided the historical and nutritional facts noted in the episode. WFC is a great resource for all things wheat and even has great information on Celiac Disease and gluten intolerance.
The foundation can be found here on Twitter and Facebook: @NationalWheat. The Cooking Channel and Food Network can be found on Twitter as well @FoodNetwork and @CookingChannel. Here is a clip of our segment: https://vimeo.com/238251714/f596511076! We encourage you to check your local listing and watch the episode live in its entirety!