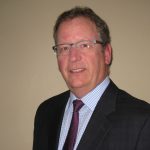 Scott lives on a fourth generation farm in Minnesota where he and his wife raised three sons. He became active in the wheat associations in an effort to increase the economic viability of this crop, hoping through a variety of avenues to make wheat revenue analogous to soybeans and corn.
Scott has a Bachelor of Science degree in Agricultural Engineering from the University of MN, has been an engineer for Deere & Co., worked in tax preparation for an accounting firm as well as an IRS representative, worked on the trading floor of the Minneapolis Grain Exchange, and has been a farmer in Grant County since 1984.
His experience within the Wheat Association includes being a director on the following boards; National Wheat Foundation, MN Wheat Research and Promotion Council, MN Association of Wheat Growers, the National Association of Wheat Growers, NAWG/USW Joint Biotech Committee, as well as chairman of various committees. Scott has had extensive leadership training through the Wheat Industry Leaders of Tomorrow, as a Syngenta Young Leader, as well as other programs.
In his spare time Scott is a gentleman hunter, a world traveler, and enjoys a variety of activities with his family.