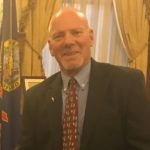 Scott Brown farms wheat, barley and mustard with his son-in-law and nephew on an 11,500-acre dry farm in Southern Idaho north of Soda Springs.  He is a third-generation farmer. His family farm averages an elevation of 6,000 feet and is blessed with rich fertile soil and normally adequate moisture. Scott is a CPA and graduated in 1980 from Brigham Young University where he earned a master's degree in accounting.
Scott has been involved in grain industry leadership since the early 2000s, having served in  Idaho as the Idaho Grain Producers Association president in 2010. At that time he served on both the National Association of Wheat Growers and the National Barley Growers Association boards. He went on to serve as the National Barley Growers Association president for two years. He most recently served two terms as an Idaho Barley Commissioner.  He has been a strong and effective advocate for the nation's grain farmers.
Scott's hobbies include traveling, fly fishing, photography and spending time with grandchildren. He and his wife Diane reside in both Soda Springs and Salt Lake City. He has a daughter, a son and 3 stepsons.