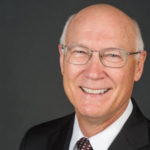 Randy Marten retired after a 43-year career in agricultural related industries that included feed manufacturing, soybean processing, grain elevator operation, rail and barge transportation, baking and flour milling.  For 19 years Marten was with Miller Milling Company, a privately owned, Minneapolis based flour milling company, where he was Executive Vice President and Chief Commercial Officer with responsibilities for wheat purchasing, quality, risk management, transportation and sales.
Marten was an owner and partner at Miller Milling until 2012 when the company was sold to the Nisshin Seifun Group, the largest flour miller in Japan.  Following the sale he continued to be involved in managing the company and in 2014 Miller Milling acquired four flour mills making Miller Milling the 4th largest flour milling company in the United States.
Marten grew up on a family farm in central Illinois and manages the operation today. Marten currently serves on three company boards – Schwebel Baking Company, Culinary International and FLM Harvest.
He and his wife, Bobbi, split their time between the family farm in Illinois and Dallas enjoying friends and family in both cities.