By: Craig Berning, Coordinator, Federal Government Relations
The 2018 Winter Wheat Quality Tour took place throughout Kansas and parts of Nebraska, Colorado, and Oklahoma from April 30th-May 3rd, 2018. More than 90 individuals comprised of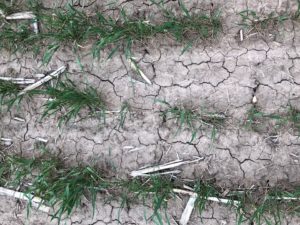 farmers, government officials, university officials, members of the media, grain industry professionals, millers, bakers, and others scouted hundreds of Kansas wheat fields over a few days. It was a great opportunity to evaluate the current condition of the wheat as well as to interact with people throughout the wheat value chain.
Throughout the tour, it was evident the Kansas wheat crop was facing many challenges, notably drought stress and delayed development. Except for northwest Kansas, most of the state's crop showed symptoms of drought stress. Many of the fields we sampled were in the later stages of their development but were only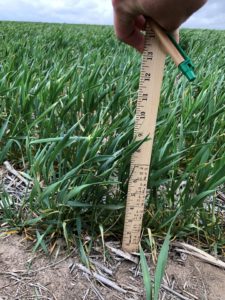 9-15 inches tall due to prolonged stress. Rain over the coming weeks will be critical to improving the crop.
Groups scouting fields also noted many of the fields being behind in their development. Those that had been on the tour before mentioned that at this time of year, the crop is typically in early grain fill or boot stage. While we observed some of this, many of the fields we sample were two to four weeks behind the normal stages of crop development. The delayed development could have an impact on yield should weather conditions during May and June not be cool and moist.
Aside from scouting fields, several participants were also able to tour the Kansas Wheat Innovation Center. The research facility contains 15,000 square feet of research laboratories, 22,750 square feet of greenhouses, and 10,000 square feet of offices. It also houses the Wheat Genetics Resource Center which has a national and international network to conduct coordinator genetic studies on wheat. The facility was built by the Kansas Wheat Commission.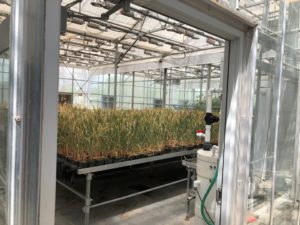 The 2018 Wheat Quality Tour showed that the wheat crop certainly is facing some challenges this year. The crop is facing drought stress and delayed development both of which could impact yield potential. However, the weather during grain filling will be a large determinant in the crop's final yield potential. Beyond just scouting the crop, the tour's ability to connect professionals from all aspects of the wheat value chain was a highlight for all. Here's  hoping for favorable weather over the next couple of months!
For more information on the annual wheat tour visit The Wheat Quality Council's site here: http://www.wheatqualitycouncil.org/!