By NAWG Staff
While it has been a difficult year, as our wheat farmers have endured unpredictable weather, delayed harvests, trade uncertainty, and low prices, there have been many bright spots for the industry. Let's look at some of NAWG's highlights for 2019.
In May, the USDA announced that it would have another $16 billion trade mitigation package. NAWG was invited by the White House to participate in a televised press event announcing this second round of trade aid payments to those farmers impacted by the trade war with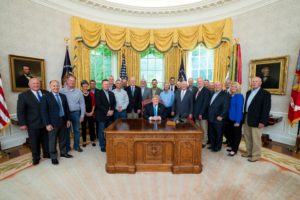 China. While NAWG continued to advocate for "trade, not aid," we recognized that it was critical for wheat to be present at this event.
In September, NAWG President Ben Scholz was invited again by the White House to participate in a televised press conference around the signing of the U.S.-Japan deal. U.S. Wheat Associates President Vince Peterson represented the Organization on its behalf. A great moment for NAWG and U.S. Wheat.
NAWG also struck success in the world of FY20 Appropriations. The U.S. Wheat and Barley Scab Initiative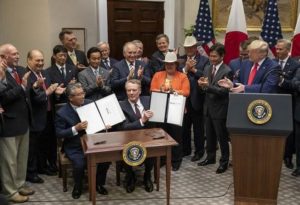 (USWBCI) was fully funded at $15 million, an increase of $5.5 million from FY2019. Additionally, NAWG was very supportive of the $1 million funding increase for the ARS Small Grains Genomic Initiative (SCCI), which brought appropriated levels to $3.5 million.
NAWG also supported the increase in funding levels for the NIFA Hatch Act to $250 million, maintaining Smith-Lever Formula Grants at $300 million, and increasing the Agriculture and Food Research Initiative to $445 million in FY 2020. Many of these wins can be attributed to NAWG's lobbying efforts. President Trump signed the FY20 spending bills into law on December 20, 2019, avoiding a government shutdown.
As 2019 came to an end, NAWG had a very busy and productive December. The Association held a successful Strategic Planning Session in Denver, Colorado where our member states and NAWG leadership met to set goals and missions for the organization to achieve and carry out over the next five years. Here, states and staff worked together to find the right path forward for NAWG so it can best meet a demanding future.
Additionally, on December 11th, NAWG announced that after nearly 40 years it will be moving to a new location on Capitol Hill. NAWG will be renting space at 25 Massachusetts Avenue, NW, maintaining its longtime presence on Capitol Hill.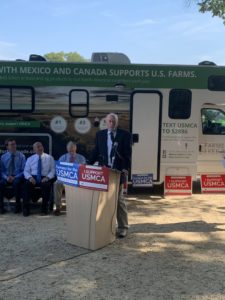 Lastly, throughout 2019, the U.S.-Mexico-Canada Agreement (USMCA) became one of the most debated topics in politics.  On December 19th, the U.S. House of Representatives passed the USMCA by a bipartisan vote of 385-41. Senate Majority Leader Mitch McConnell has indicated the Senate will take up the agreement in January. NAWG will continue to push for the Senate to vote yes on this important trade deal and saw the House passing USMCA as a major win for wheat. Read NAWG's joint release with U.S. Wheat Associates here.
It's clear that NAWG had a very successful 2019, and we anticipate 2020 to be even better!  While we noted a few highlights of NAWG's 2019 wins above, check out our press release page for more news from throughout the year. By working collectively with our members, NAWG knows that it will continue to thrive and overcome any challenges that may occur in 2020.