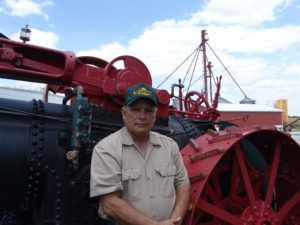 I farm near Monticello, Iowa, where I raise corn and soybeans in a rotation on 700 acres. I am a fifth generation family farmer. With my wife Sharon, we own an ag supply company called Prairieview Ag Service, selling seed, chemicals, and fertilizer. We also offer custom services in seeding cover crops, strip-tilling, and chemical application. I am a Certified Crop Advisor. I have three adult children.
I serve as a director on the state board for the Iowa Corn Growers Association, an advisory committee with the US Grains Council, and Vice-president of the National Rumely Tractor Collectors Club. Locally, I serve on boards for the Linn County Farm Bureau, the Prairieburg Fire Department, and the Brown Farm Pioneer Days.
In my 40 years of farming, I have experimented with a lot of alternative crops (to Iowa) including sudan grass, canola, cereal rye, and even cotton one year. But as one who likes to try new things and practices, this year I planted 60 acres of winter wheat and entered it in the yield contest.
This year's wheat contest field was the result of an experiment in double-cropping wheat & soybeans. The contest field was corn in 2015. After the corn was harvested, it was strip-tilled between the corn rows with Potash, on a 30" spacing. It was then planted to a Clearfield wheat variety, to accommodate a herbicide program that would allow me to interplant soybeans with the wheat. In October of 2015, Clearfield winter wheat was no-till seeded in two 10" rows ( 5 inches on each side of the harvested corn row) leaving a 20" gap in the middle where the Potash strip-till was. In April of 2016, I seeded soybeans into the strip-till between the 2 wheat rows. Nitrogen, Beyond herbicide, and PriAxor fungicide where applied to both crops during the growing season. In July, the plan was to harvest the wheat out of the standing beans with a JD 653 row crop head. Of the 60 acres of this "experiment" approximately 20 of it was harvested as planned. The humid weather in July of 2016 did not lend itself well to harvesting standing wheat here in Eastern Iowa. Where I was able to harvest the wheat on time, the yields were excellent. The soybeans went on to yield over 60 BPA. On the remaining 40 acres, the project was a dismal failure! The entire 40 acres was harvested in the fall with a platform head, harvesting the wheat & soybeans at the same time. We now have 5000 bushel of wheat and soybeans in a bin that needs to be separated! These beans yielded about 40 BPA, and the shatter in the wheat was terrible. We had a "self-seeded" cover crop this fall.
This field will be corn in 2017…..and NO, we are not trying this cropping system again for 2017! There are other wheat–soybean double crop systems I will be trying once the wheat market firms up.