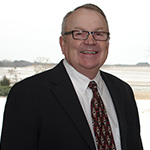 Joe Kejr
Chairman
Joe grew up on the farm west of Salina, Kansas and is a third-generation farmer. He farms with his son Josh, a nephew and a brother. Their farm uses no-till practices, and they raise Wheat, Corn, Soybeans, and Milo. Raising quality wheat has become one of the priorities of the farm and have bought a couple small elevators to be able to segregate grain by quality.
He has served on several boards and is active in a local church. In 2006 to 2008 he served as President of the Kansas Association of Wheat Growers. During that time, he served on the National Association of Wheat Growers board and chaired the joint Biotech committee. In 1992 he was elected to the Kansas House of Representatives and served 3 terms.
One of Joe's passions is sharing the many blessings that we have in the United States. Starting in 2015 Joe and his wife Geena have been taking Mission trips to Guatemala to work with a small village that is 3 hours southeast of Guatemala City. Working with the local farmers, teaching in the school, supporting them as they develop their water system and encouraging others that join on the trips that bring their own specialties.
Joe has a daughter and son-in-law in Boston, his son wife and granddaughter are part of the farming operation and he specializes in handling the spraying needs of the Farm and another daughter who works at the College of Agriculture at the Kansas State University.