By Michelle Erickson Jones, Vice President of the Montana Grain Growers Association and director for the National Association of Wheat Growers
Telling our agriculture stories has become a key tool in our efforts to underscore the importance of farm policy to both consumers and government officials. First though I will introduce myself: I am Michelle Erickson Jones and I am the current Vice President of the Montana Grain Growers Association, a director for the National Association of Wheat Growers, and a fourth-generation farmer. I literally voted myself onto the Montana Grain Growers Association board of directors, I voted for myself as a write in candidate on my ballot and my father's, soon after I returned to the family farm. In the intervening years farm policy, trade, and advocating for agriculture (particularly the wheat industry) has become a passion of mine.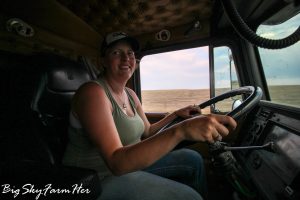 My Crop Insurance Story
I returned to the farm in 2012, the driest year on record in our area, and my first wheat crop was harvested in 2013 (what was left of it by the time we got to harvest anyway). 2012 also represents the worst year in recent history to convert CRP (conservation reserve program) land back to production farmland in South Central Montana. 2013 was highlighted by drought breaking rains in May and June after almost 24 months with little to no precipitation but for my winter wheat crop most of the damage had already been done.
The crop was slow to emerge, slow to grow, and had several other issues that limited it's potential. There was also simply not enough stored water to support a quality winter wheat crop. The final nail for most of the crop was in the middle of June. A typical Montana thunderstorm rolled through bringing 1″ of rain and large hail. Hail pounded 75% of the crop to the ground. It's sad, limited yield potential was dropped to zero. Somewhere around 50% of the crop was "zeroed" by the hail insurance adjuster and the remaining percentage that was damaged had varying degrees of damage. The remaining bushels produced far below my crop insurance guarantee which caused my Multi-Peril Crop Insurance to trigger a payment.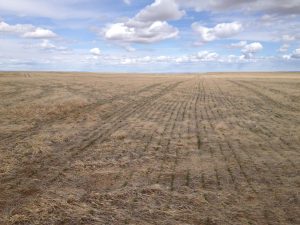 What were the implications for my fledgling farm operation?
Because of crop insurance the answer was nothing. Crop insurance guarantees allowed me to break even that year. In terms of dollar figures: that year I had an operating budget of $150,000, my losses on my wheat crop ranged close to $100,000. My crop insurance payment was roughly $80,000. Wheat was obviously not my only income source that year however crop insurance kept me from being short $80,000-$100,000 in revenue. Crop insurance kept me from telling the bank I could not pay back my operating loans, or that I could not make the payments on my new machinery loan. The crop insurance program kept me from failing before I even got started.
These figures are relatively small in the farming world, even five years later we are dealing with budgets and revenues that double and triple those numbers. Many deal with operating budgets and revenues in the upper six figures and into seven figures – and it is crucial to those operations that crop insurance provides a viable safety net for them. In my case it was a one-year disaster, for many, especially in long-term drought situations they have several years of disasters. The importance of crop insurance becomes magnified when the weather hands you horrendous conditions for crop production multiple years in a row. Can you imagine facing your banker without crop insurance as a safety net if you lost $100,000 year after year? Your borrowing power diminishes in a hurry. Your farm disappears in a hurry.
Protecting the Family Farm
Underscoring the importance of crop insurance is difficult however it is by far the most important policy tool we have as U.S. farmers. Our ability to tell our crop insurance stories, relate them to real life, and convey that to consumers and tax payers is also critically important. We know the importance of the program, we know it needs to remain a viable program for far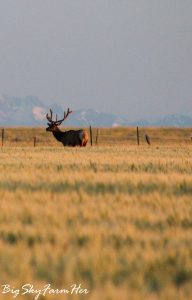 mers and we know we need to protect it from having bits and pieces dismantled through budget resolutions, appropriations, and Farm Bill negotiations.
Put quite simply: crop insurance protects family farms of all sizes. Crop insurance protects my farm from severe economic distress. Crop insurance provides the guarantees necessary for banks to provide us with operating funds. Crop insurance gives us a safety net and protects us from further consolidation within the industry and a further reduction in the number of family farms scattered across the United States.