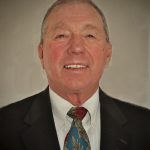 Gary has farmed near Rapelje, Montana since 1978, raising wheat, barley, pulse crops, safflower and livestock and is actively involved in his church and community. He has an extensive record of public service in Montana, serving as President of Montana Grain Growers Association in 1998 and President of the National Association of Wheat Growers in 2002.
Gary's dedication to serving Montana's agriculture industry continues today with his position as a director of the Montana Grains Foundation where he has been involved in establishing and raising funds for the first endowed chair in the history of the Montana State University College of Agriculture. Gary currently serves as a grower member of the advisory council for that faculty position.
Scientific research plays a constant roll in Gary's farming operation. He works closely with the MSU Southern Ag Research Center in Huntley, MT by having off station variety trials located on his farm and served on several leadership capacities on the Montana Agricultural Experiment Stations' Advisory Council. In 2006, Gary was selected by MSU as their Outstanding Ag Leader. An honor awarded to those who have provided extensive leadership in agriculture.
Recently, Gary was selected to participate in a transatlantic dialogue and grower exchange with German farmers, researchers and policy experts sharing ideas on smart farming technologies used in both countries.
Gary is married to his best friend, Sue and they are proud grandparents of sixteen wonderful young men and women.