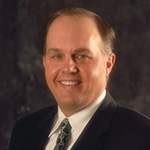 David Cleavinger is a fifth-generation Texas farmer/rancher operating his 3,500-acre irrigated family farm and ranch in Wildorado, Texas. His crop production has included wheat, corn, grain sorghum, seed milo, sorghum silage, cotton and sugar beets along with stocker cattle. In 1979, he earned a degree in agriculture business and economics from West Texas A&M University.
David has been an advocate for agricultural policy at the state and federal level for more than 25 years. He is a Past President of the National Association of Wheat Growers where he has had extensive travel throughout the nation and world. Visiting Europe, studying European Farm Policy and Renewable Fuels technology. Also, traveling to China and looking at Chinese rural policy and the dynamics of future China growth.
David currently serves as Vice Chairman of the National Wheat Foundation and is on Monsanto's Leading Grower Advisory Board representing the Southwest U.S. agriculture, along with being on the wheat team to develop new technologies in wheat. He serves on the Environmental Defense Fund Ag Advisory Board based in Washington DC to open dialogue for policy that benefits both Environmental groups and agriculture. He also serves as Vice Chairman of the Board of Directors for the Southwest Business of Agriculture to represent wheat on National Farm policy.
David and his wife, Jackie have been married for 39 years. Jackie serves as senior accounting clerk for Snack Pak 4 Kids, a nonprofit that is striving to end weekend hunger for Texas Panhandle children. They have two children, Kent and his wife Aubrie, which is in the family farming operation, Kelly Caviness and her husband Regan who live in Amarillo and are active in the cattle industry.