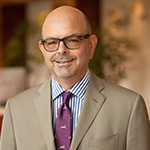 Chuck Elsea is a seasoned agribusiness executive with extensive experience managing bulk commodity merchandising and handling businesses that provide grain, ingredients and related services to customers engaged in the production of food, feed, and renewable fuel.
Chuck was affiliated with The Scoular Company for more than 20 years, 15 of those on its Board of Directors. He served as its Chief Executive Officer from 2009 until 2016. Prior to that, he was engaged in various senior management roles, overseeing groups of businesses that market and handle both commodity and specialty wheat, feed grains and soybeans in domestic and export markets. In this time, he lead the build-out of the company's shuttle train network on the Southern Plains, as well as the  industrialization of the company's programs in intermodal markets. Mr. Elsea's origin in the industry was as a grain merchandiser with The Pillsbury Company. Over the ensuing years, he has worked at a number of different locations in a variety of roles of increasing responsibility in merchandising and operations management, resulting in a diverse base of experience and knowledge in the agriculture industry.
In addition to his responsibilities with his employer, Elsea has been active in numerous roles in industry associations. Chuck has been a member of the National Grain and Feed Association, serving on the association's Arbitration Appeals committee. He is a past member of the Kansas City Board of Trade, where he served on the Board of Directors, and also a past member of the National Freight Transportation Association. Chuck spent 11 years as a commissioner on the Highway Advisory Commission of the Kansas Department of Transportation (KDOT) and served as a member of KDOT's Strategic Planning Task Force in the Sebelius administration.  Chuck is a past Chairman and long-time member of the Board of Directors of the Kansas Grain and Feed Association and also the Transportation, Elevator and Grain Merchants Association (TEGMA.)  He has previously served on the Kansas Governor's Agricultural Advisory Board. Mr. Elsea currently serves as a member of the Board of Directors of the National Wheat Foundation.
Chuck has a Bachelor of Science degree in Animal Science and Industry from Kansas State University.  Over his career, he has supplemented his formal education and work experience with numerous seminars on business management, negotiation, strategic planning, personnel supervision and development. The majority of these seminars were offerings of Harvard University or LeaderPoint Management Development.