This year marks the 50th anniversary of Earth Day. On April 22, 2020, we celebrate our planet by highlighting what we can do to protect it. The theme for Earth Day 2020 is climate action. The enormous challenge of action on climate change has distinguished the issue as the most pressing topic for the 50th anniversary.
Agriculture has already taken steps to slow down climate change. New analysis of updated data from the U.S. Environmental Protection Agency, combined with U.S. Department of Agriculture data, shows U.S. farmers and ranchers continue to reduce per-unit greenhouse gas emissions (GHG). All told, the U.S. agricultural sector accounts for less than 10% of total U.S. emissions. That is less than the emissions from the transportation, electricity generation and industrial sectors. Globally, agriculture accounts for about 24% of GHG emissions.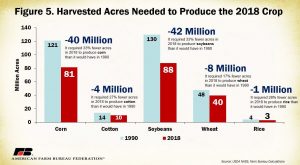 Wheat growers across the country continue to play a vital role in maintaining soil health by incorporating conservation practices into their operations. They work directly with their local Natural Resource Conservation Services and Farm Service Agency offices to participate in USDA conservation programs. Working lands conservation programs such as the Environmental Quality Incentives Program, the Conservation Stewardship Program (CSP) and the Conservation Reserve Program provide valuable assistance to wheat growers.
Further, in late 2017, the National Wheat Foundation, NAWG's educational counterpart, joined the Soil Health Partnership (SHP). The Soil Health Partnership is a farmer-led initiative that fosters transformation in agriculture through improved soil health, benefiting both farmer profitability and the environment. NWF and SHP are working together to demonstrate the soil health benefits of management practices and crop rotations that include wheat. To date, SHP and NWF have establish six wheat-focused sites across Kansas and Minnesota for the 2020 growing season.
Lastly, NAWG is involved with Field to Market – a collaboration effort that emphasizes the inclusion of diverse perspectives, a foundation of science- and outcomes-based approaches to sustainability, and a focus on commodity crops with recognition of their unique supply chains. NAWG has been representing wheat for more than 10 years and currently holds a seat on the Board of Directors. Additionally, Field to Market has several multi-year projects in Michigan, Kansas and Idaho involving wheat growers.
While these are just a few examples, wheat continues to find new and innovative ways to fight the damaging effects of climate change. Farmers are committed to managing their operations in a manner for long term productivity, profitability, and sustainability – economically and environmentally. NAWG continues to advocate for more investment in research that finds links between soil health, wheat crop quality and yield. As we celebrate the 50th Anniversary of Earth Day, it's important to remember that the sustainability efforts we put in place today will protect the Earth for many seasons to come.